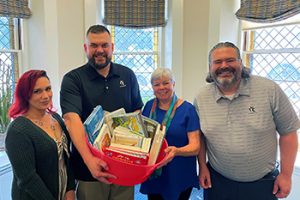 Fitchburg, MA – June 6, 2023 – We are thrilled to have played a small role in helping the Worcester Area Mission Society (WAMS) by donating over 30 new children's books for their Play Group Plus program, a pre-Kindergarten program primarily for three and four-year-olds.
Not all children have the opportunity to experience early childhood education, and many come from homes in which English isn't the primary language. The PGP program was created to assist new students with socialization, and introducing them to classroom and basic pre-K learning. Every child leaves the session with a new book to take home.
Learn more about Worcester Area Mission Society, UCC (WAMS) and their Play Group Plus Program: WamsWorks.org
Pictured in photo (L to R): Vanessa Ramos, Director of Programs at WAMS; Jurgis Baliulis, AVP Solutions Manager of IC's Main Office; Karen Ludington, M.Ed., J.D., Executive Director at WAMS; and David Breton, Solutions Manager of IC's Worcester Office.