Credit score tool, inside your IC mobile app!
This tool gives you a full view of your credit score, a vital piece of your overall financial profile.
You'll not only get regular updates on your actual score but you'll also gain important insights into the makeup of your score; get alerts when an action, including potential fraud, changes your score; and simulate the impact that certain actions can have on your score.
To view your score or to enroll, simply log into your Mobile Banking app and tap "View my Credit Score" right on the home screen.
Providing you free access to your credit information is another part of our ongoing commitment to empowering our members to achieve financial success.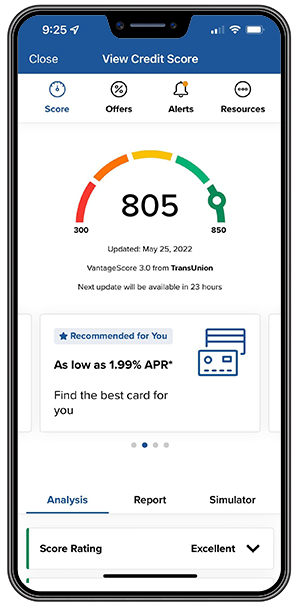 Apple Pay
Pay for products with a single touch at hundreds of thousands of stores and participating apps
Samsung Pay
Make worry-free purchases at participating merchants knowing that your payment information is protected
Android Pay
Secure and convenient shopping at over one million stores and merchants across the United States
How to Access Your Mobile Wallet
Make sure your iPhone or iPad has the latest version of iOS

Add your IC Credit Union Visa card to Apple Pay

Use it within apps or hold your device near a contactless reader with your finger on Touch-ID

Link to your Apple Watch if you have one
Want more information? Learn more here.
See a full list of participating Apple Pay stores here.
Swipe up from the home button or select the

Samsung Pay app

icon from your home screen and/or app tray

Authorize payments by simply scanning your fingerprint or entering your pin

Hover your phone over the in-store card reader
Want more information? Learn more here or ask for support here.
Contact Us
If you have any questions left
Address
300 Bemis Road, Fitchburg, MA 01420